Nigerian singer, Teniola Apata has given a sole condition that must be met in order for her to perform in South Africa again.
The singer was asked on micro-blogging site, twitter, on when she'd return to perform in the country and she gave an utmost sincere reply.
The fan asked ;
Hey Teni, when are you coming to SA ?
Teni replied ;
Let burnaboy go and comeback first.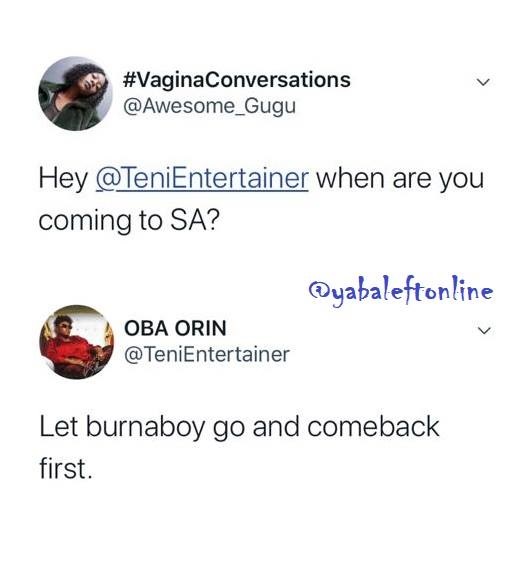 Burna Boy replied Aka and South Africans via his twitter social media platform.
This happened at the weekend after Burna boy announced his attendance of the "'African Unite event scheduled to hold in SA. "The first of many," Burna Boy said.
"Part of the proceeds will be donated to the victims of xenophobic attacks by me! I really hope we can all keep contributing in our own way to make the world a better and safer place for each other. #Africansunite , it's bigger than all of us."
South African Rapper Aka had demanded an apology from Burna boy. This was after Burnaboy, who promised never to visit South Africa again, threatened him with violence.
Aka said: "Ek se … Burna Boy. All we want is an apology. We know SA is not perfect, but we took you in as our own before you reached these levels. You say you are an AFRICAN GIANT, prove it."